As Building Surveyors and Asbestos Consultants dealing with commercial property issues on a daily basis, it is somewhat concerning that, despite Asbestos Legislation being well established, many commercial organisations both small and large are still not fully compliant and, in extreme cases, are completely oblivious to both asbestos risk and legal requirements. Whether you're in London or Leeds Asbestos Surveys must be done professionally by qualified Asbestos Surveyors who adhere to the most recent legislation.
Asbestos Legislation and, in particular, the duty to Manage Asbestos in non-domestic premises has been in place since the Control of Asbestos at Work Regulations 2002 came in to force on May 21st 2004.  The Regulations required 'duty holders' of all non-domestic premises to manage asbestos risk.
There have been various revisions and updates to the Legislation, with the latest version being The Control of Asbestos Regulations 2012, which came into force on 6 April 2012.  The basic 'duty holder' obligations and restrictions for working with asbestos have remained largely the same, these being:
– To record the location and condition of asbestos containing materials.
– To assess risk of exposure to asbestos fibres.
– To implement and periodically update a management plan to reduce risk of exposure.
– To identify all ACM's and review condition prior to any building or maintenance work in premises, or on plant or equipment that might contain asbestos.
– In the majority of cases, work with asbestos needs to be done by a licensed contractor and is notifiable to the HSE.  This includes most asbestos removal, all work with sprayed asbestos coatings and asbestos lagging and most work with asbestos insulation and asbestos insulating board (AIB).
– Non-licensed asbestos work still requires effective controls.
– The control limit for asbestos is 0.1 asbestos fibres per cubic centimeter of air (0.1 f/cm3).  The control limit is not a 'safe' level and exposure from work activities involving asbestos must be reduced to as far below the control limit as possible.
– Training is mandatory for anyone liable to be exposed to asbestos fibres at work.  This includes maintenance workers and others who may come into contact with or disturb asbestos (e.g. cable installers), as well as those involved in asbestos removal work.
– If existing asbestos containing materials are in good condition and are not likely to be damaged, they may be left in place; their condition monitored and managed to ensure they are not disturbed.
Changes under the Control of Asbestos Regulations 2012:
– There has been a change in the notification requirements when working with previously non-licensed non-notifiable asbestos containing materials with the introduction on non-licensed notifiable works whereby, from 6 April 2012, some non-licensed work needs to be notified to the relevant enforcing authority.
– From 6 April 2012, brief written records should be kept of non-licensed work, which has to be notified e.g. copy of the notification with a list of workers on the job, plus the level of likely exposure of those workers to asbestos. This does not require air monitoring on every job, if an estimate of degree of exposure can be made based on experience of similar past tasks or published guidance.
– By April 2015, all workers/self employed doing notifiable non-licensed work with asbestos must be under health surveillance by a Doctor.  Workers who are already under health surveillance for licensed work need not have another medical examination for non-licensed work BUT medicals for notifiable non-licensed work are not acceptable for those doing licensed work.
– Some modernisation of language and changes to reflect other legislation, e.g. the prohibition section has been removed, as the prohibition of supply and use of asbestos is now covered by REACH (Registration, Evaluation, Authorisation and Restriction of Chemicals Regulations 2006).
A guide illustrating the various works categories under the revised Regulations has been prepared by the HSE and is shown below: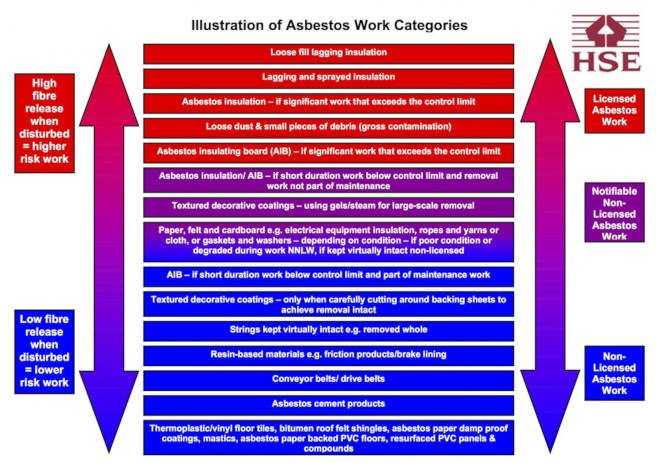 The HSE is also running a campaign to reduce the risks to ill health for people who use buildings that contain asbestos by providing practical advice and guidance on how they might comply with it.  Comprehensive guidance can be found via the HSE's website https://www.hse.gov.uk/asbestos/
If you would like effective strategic and commercial advice regarding the management of Asbestos from qualified Asbestos Surveyors within your property or property portfolio please contact us today.
Tel: 01423 534604 or email julian.mason@bradley-mason.com