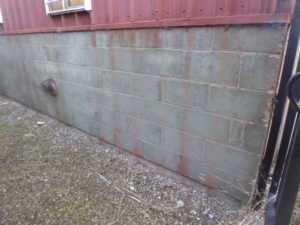 We recently carried out a survey in Hull and discovered that the light industrial unit we were surveying appeared to be of a typical steel portal frame with infill masonry block and profiled steel cladding, which is all pretty straight forward and as expected, until we came across some impact damaged sections.
 The impact damages actually gave us an insight into the components used in the block mixture.  The blocks contained strands of sawdust.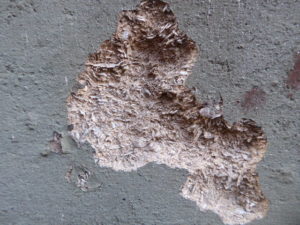 Whilst using sawdust in a concrete mixture is a non-standard method of manufacturing masonry blocks, there are many acknowledgments of this type of additive being studied and potentially being used in the construction industry. 
Following background research of the use of sawdust in concrete mixtures, it is clear to see a correlation between the material discovered onsite and to the material described as wood-crete in numerous texts. Wood Crete is basically made up of wood waste and was developed to provide an alternative material to help solve problems with the delivery of low-cost housing.
 Many researchers believed that wood-crete would have better insulation properties, resistance to water absorption, fire performance, and strength properties. All these advantages had a compromise, the blocks strength when comparing that to the strength of a normal concrete mix was weaker.  The blocks we discovered onsite were used as the material for an in-fill block wall so we did not have any immediate structural concerns when considering this strength compromise!!   
For those readers who are interested in finding out more, we suggest you take a look at  a journal titled 'Development of Wood-Crete from Hardwood and Softwood Sawdust' authored by Eboziegbe Patrick Aigbomian and Mizi Fan –  Department of Civil Engineering, Brunel University, London, UB8 3PH, UK.
Owen Black