Asbestos guttering, also known as asbestos cement guttering, is often present in asbestos cement roofs. The guttering is located at the eaves of the roof pitch in industrial and warehouse properties.  Asbestos cement gutters suffer from a number of common faults – such as leaks, cracks and the build-up of debris – that can escalate if left unattended over time, so routine maintenance is important. There is also a risk of asbestos contamination if the underside becomes friable.
Under the "Control of Asbestos Regulations 2012" the "Dutyholder" has the responsibility to manage asbestos.  The "Dutyholder" may be the owner or the leaseholder depending upon the building and the terms of the tenancy.  The lease must be scrutinised to understand the responsibilities and requirements. Whilst asbestos cement is not a Licensed form of Asbestos, it must still be managed in accordance with the Regulations and all works implemented in accordance with HSE Guidelines for working with none licenced asbestos.
We have come across various issues regarding asbestos guttering when conducting both Dilapidations Surveys and Acquisition Surveys for clients.  Not many commercial property Dutyholders are aware they have asbestos guttering.  Due to this lack of awareness, it can fall into disrepair, which is often expensive to repair and/or replace and can pose a risk if it becomes friable.  The images below show an example of asbestos guttering having fallen into disrepair on a commercial property.  These examples are some of the worst we have seen and will require immediate attention.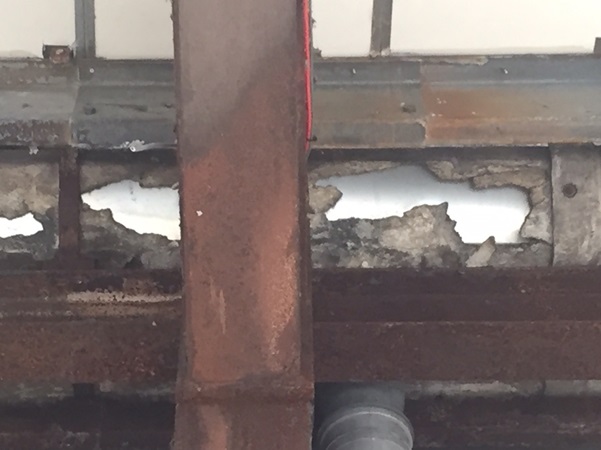 Acquisition Surveys
Where clients are considering a commercial expansion, an acquisition survey is essential to ensure that they have a full understanding of the existing condition of the commercial property, including the building structure and any major defects that have been identified. The risks imposed by the presence of asbestos must be considered and if acquired by a landlord for commercial letting, the presence of asbestos can deter potential tenants.
Dilapidations Surveys
Where a tenant is leaving a commercial property, the deterioration of asbestos guttering under their tenancy could incur some hefty costs if left unattended. It is, therefore, important that clients are made aware as to whether or not their commercial premises uses asbestos guttering so that they can make the necessary preparations to resolve any issues should they arise.
If you are nearing the end of a tenancy, or are considering a property for a commercial expansion, it is recommended that you get in touch with an expert to find out the state of repairs on the property guttering. If you are unsure as to whether or not the property has asbestos guttering, get in touch with us today and one of our experienced surveyors will be able to provide this information following a detailed report.