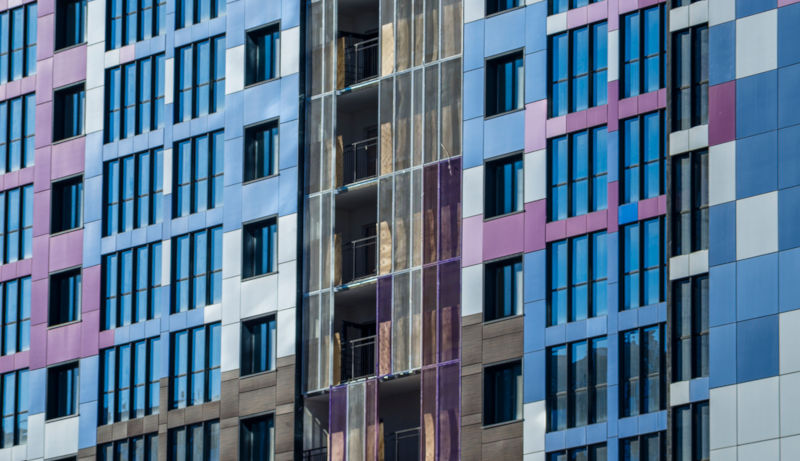 Aluminium composite panels are lightweight cladding panels that should be ideal for external building facades and fascia to improve the aesthetic appeal and weather resistance of buildings. The flat panels consist of two thin aluminium sheets bonded to a non-aluminium core. When correctly specified, installed, and officially certified to perform to code and regulations, this building material has several advantages. This includes:
Robust durability and light weight
High weather resistance
Cost effectiveness
Easy installation
Low maintenance
Aluminium composite material (ACM) panels are often made with various types of cores that should be strictly reviewed and assessed for suitability. These include mineral fibre (usually stone mineral wool), PUR (polyurethane) foam, PIR (polyisocyanurate) foam, polystyrene and PF (phenolic foam). Key criteria here are the height of the structure the panels are used for, and their fire resisting capabilities.
ACM cladding became notorious following the disastrous Grenfell Tower fire in June 2017, when ACM cladding with a polyethylene core was thought to be at least partly to blame for the rapid spread of the fire up the outside of the 24-storey block of flats, leading to substantial loss of life and damage to the building. ACM cladding was also linked to a number of other fires, notably the Lakanal House fire in Camberwell in 2009, where six people died.
If you suspect ACM cladding on your building, the first step is to identify the material. Aviva have produced a handy checklist that highlights key observations when reviewing composite materials, Check for:
Two sheets of metal – one external, one internal
Evidence of core material from joints, damaged sections, holes left from removed services etc.
Panel identification marks (e.g. UV identification code on internal face, or printed identification tape on panel edging)
Labels attached to the composite panels
Panel profile indicating the type of cladding system
The Department for Communities and Local Government are working with the Building Research Digest to enable fire testing of samples of cladding from high rise buildings of concern. Shortly after Grenfell, the Department announced that in buildings with a floor over 18 metres above ground levels, and where ACM panels were identified, it would now be necessary to establish whether the panels comply with Building Regulations guidance, i.e. the core material should be a material of limited combustibility or Class A2.1.
If you have identified ACM cladding on your building, here are some essential steps you should take:
Check installation and support documentation to verify that the installation and the panels are approved by LPS 1500 and LPS 1531, and that the approved panels will perform adequately in case of fire.
Ensure that your building is insured, bearing in mind that each insurer will have their own strategy in respect of underwriting risks containing Aluminium Composite Material. Make sure that you seek your insurer's direct advice.
For specialist guidance and advice regarding ACM and your property portfolio, please get in touch with a member of the team at Bradley-Mason to discuss your requirements in detail.
Our senior level team provide expert advice throughout the life cycle of your property interest, from acquisition to disposal. Proactively questioning your requirements to ensure that our services are tailored to your current and future needs, we combine our deep Building Consultancy skills with commercial awareness to fully understand and serve our clients' business needs.