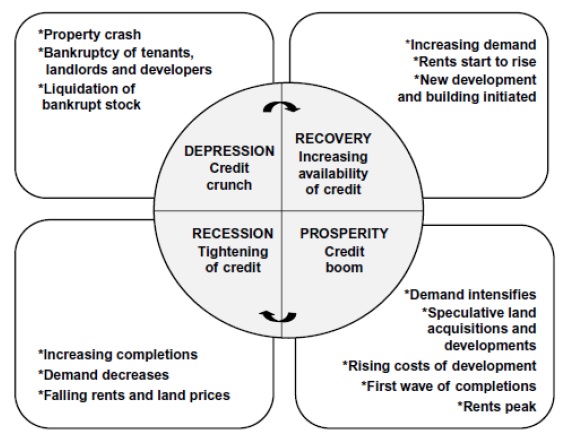 The building cycle is made up of a combination of factors from the business cycle, credit cycle and the development cycle of the property market. The four main property cycles which occurred between 1962 and 2000 were all linked to movements in the economy and were the result of the combination of strong demand growth shortages of supply and credit expansion.
When exploring the property cycles of more developed economies, a link can be seen to the business cycle and GDP. GDP fluctuates over time at the level of economic activity, if GDP is high, this is reflected in companies making profits and potentially expanding the business along with employing additional staff.
This links to property markets, as when companies grow, they may relocate to bigger or better premises to suit their needs, this is known as 'derived demand'. The cyclical activity of the property market is also linked back to the economy, when new developments are complete this money feeds back into the economy.  When GDP peaks, it creates a boom at the top of the cycle, similarly when it dips it can create a slump.
The RICS define a property cycle as 'a logical sequence of recurrent events reflected in factors such as fluctuating prices, vacancies, rentals and demand in the property market'. To find out more about property cycles and how they link to the office markets of Leeds and Manchester, please click here to read our full office markets report.