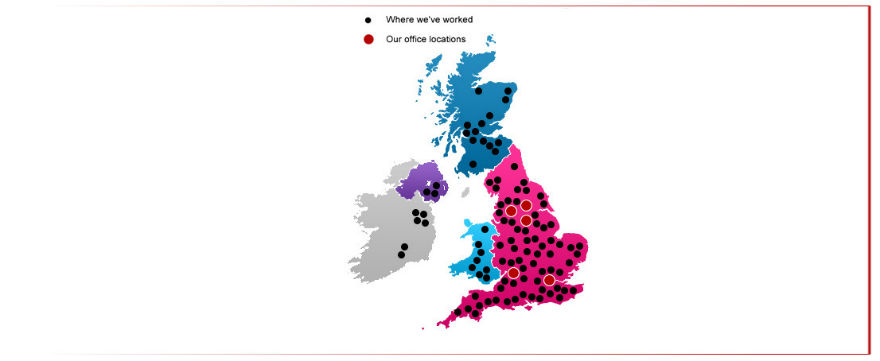 Harrogate Surveyors
Windsor House, Cornwall Road, Harrogate, North Yorkshire, HG1 2PW
Tel: +44 (0) 1423 534 604
Fax: +44 (0) 1423 534 605
Email: info@bradley-mason.com
London Surveyors

For jobs in this region please contact:
Tel: +44 (0) 203 390 1217
Email: info@bradley-mason.com

Manchester Surveyors

For jobs in this region please contact:
Tel: +44 (0) 161 403 0143
Email: info@bradley-mason.com

Sheffield Surveyors

For jobs in this region please contact:
Tel: +44 (0) 114 368 0104
Email: info@bradley-mason.com

Bristol Surveyors

For jobs in this region please contact:
Tel: +44 (0) 117 212 0139
Email: info@bradley-mason.com
A Nationwide Surveying Service
Bradley-Mason is a team of experienced building consultants and project management experts specialising in providing clients across the UK and Europe with excellent surveying and property services to suit their needs. We offer a nationwide service operating from five central based offices in Manchester, London, Bristol, Sheffield and Harrogate. With an extensive team of knowledgeable, chartered surveyors we are able to provide independent property advice to all clients, whether you are embarking on a commercial expansion, looking for a new buy-to-let investment or starting on a new commercial build.
Wherever you are in the UK, Bradley-Mason draws from a wealth of local experience to offer clients professional advice and assistance on their property endeavours. We can meet the needs of all our clients both quickly and efficiently. Thanks to our extensive experience in offering project management and consultancy services in a number of different locations over the years, we focus on saving clients' money in the process. As experts in nationwide project management and building consultancy services, clients can rest assured that the Bradley-Mason team will provide them with all the relevant information needed.
Our Team

Since 2004 we have been building on our commercial awareness and understanding of the industry to deliver an expert, professional service to clients across the country. We have an experienced team of consultants on board who have worked in senior management positions for some of the largest international property consultancies. You can rely on us to give you the advice you need to improve various aspects of your building project.
We supply our services to a number of the biggest corporate companies in Europe including TK Maxx, Dixons, Thornton's and much more. We are vastly experienced in project management with our team of operatives taking up project management positions during major building projects all over the country. We use our expertise to effectively manage the entire project from the initial concept planning through to the entire design process.
As an experienced group of building surveyors, we are fully aware of what it takes to transform client expectations into a reality. Our consultancy service is designed to work with your project specifications and get you the foothold you need to be successful in maximising value and witnessing a rapid turnaround.
Property Services We Provide
We cover building surveys, dilapidations, health & safety, asbestos awareness and many other services in the detailed client consultation process, dealing with everything quickly and efficiently. We can also cover the contract administration, cost management, development monitoring and additional management services to maximise stability, efficiency and security during the entire process.
We help to prevent unnecessary spending with our concise Schedule of Dilapidations, a survey designed for the benefit of tenants and landlords alike. We make the most of a proactive service to come to a swift conclusion on both dilapidation surveys and leasehold liabilities
Get in Touch

With five offices throughout the UK offering both local and national commercial property services, we can ensure we can meet your needs quickly while keeping costs down. For more information on the commercial property surveying services we provide to clients across the UK, simply fill out the form below, or contact us at one of our branches to speak directly to an expert. We look forward to hearing from you.